The Ultimate Guide to Downsizing Your Home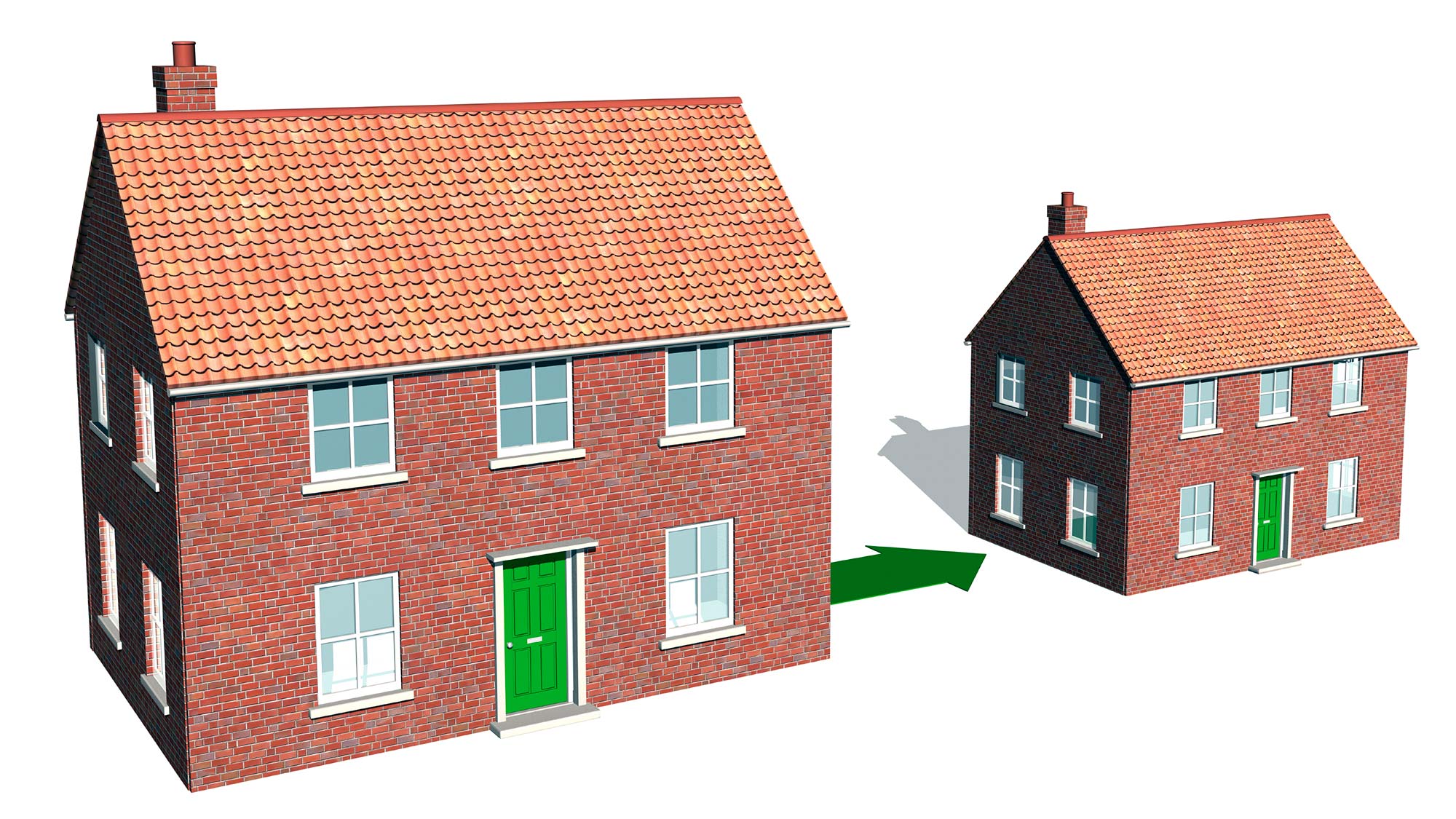 It'll probably creep up on you; one day, you may wake up and feel like your home is just too dang big. Maybe your kids have abandoned their bedrooms to jet off to college, or your aching back can't handle raking up those fall leaves one more time. Or, maybe you're just sick to death of your McMansion and all the upkeep it entails.
If so, you're a prime candidate to downsize. But how should you get started?
Going small is a big decision, so it pays to consider the pros and cons carefully at each stage. To help you navigate this transition, consider these questions at each step of the process to guarantee that you'll be able to relish the freedom of your new, simpler life.
Step 1: How much money will downsizing save me?
Merely moving out of your family home into a smaller place doesn't mean that you're automatically going to be rolling in dough. This is a common misconception. If you move to a newer property or one in a more expensive area, your bills could end up going up, not down.
So the first thing you should do is get a ballpark idea of your potential savings by plugging in your stats to this downsizing calculator from the Center for Retirement Research.
To give you an example: If you move from a home worth $250,000 to a $150,000 home, the proceeds from the sale—combined with saving on expenses such as utilities and taxes—would give you an extra $6,250 per year.
Step 2: When's the right time to move?
There are reasons to stay put a while longer: Say, you're waiting until your kids graduate from high school, or for your Social Security benefits to kick in, or perhaps you simply don't feel ready yet. But know this: If moving will save you a significant amount of money, the sooner you can do it, the sooner you'll be able to enjoy the financial benefits of downsizing. And what's not to love about embarking on a few epic vacations sooner rather than later?
Plus, making the move as a young retiree means you'll be in better shape to handle the physical and emotional demands of moving.
"As you get older, it's hard to physically pack up all the boxes," says Steve Sass, a senior research economist at CRR. "It's also harder to make friends and get involved in a new community."
Step 3: What are my ideal new digs?
If retirement is the main factor prompting a move, there are plenty of factors to keep in mind—including climate, distance to friends and family, and proximity to good health care. But here's one golden rule that applies across the board: Buy a house in an area that has a lower cost of living than where you currently reside (because, of course, this is one of the best ways you'll find to lock in long-term savings).
One (almost) instant way to save: downsize from a house with a yard into a condo or a community with a homeowners association that will take care of outdoor maintenance for you. One caveat: You'll need to factor HOA fees into your housing expenses. Be sure to also check out the association's finances and make sure it has an adequate reserve fund.
"That can stave off future HOA fee increases," says Mario Minotti, a partner with Minotti Group Wealth Advisors. "That's a big deal when you're retired and on a fixed income."
If you're not really sure where to move, consider renting for a few years to try out an area or property type. Yes, you'll have to pay to move more than once, but it will likely cost you less than it would to buy and sell two properties in short succession.

Step 4: What will I do with all my stuff?
If you decide to move into a smaller property, you'll have to start parting with lots of the furniture, artwork, and various tchotchkes (it's Yiddish—look it up) you've accumulated over several decades. While the prospect of doing this can be overwhelming, many people find it liberating to shed excess belongings. This helps explain the tiny-home phenomenon.
You can sell unwanted items, say, on Craigslist or eBay (or have someone else do it for a percentage of the proceeds), or you can donate your things and save the receipts for a nice deduction at tax time.
Those who just can't part with their carefully collected stuff (or who have a plan to pass them on to future generations) will need to investigate storage solutions and factor that expense into their downsizing equation. But take it from us: It's best to purge. Why throw away money on things you don't see and use every day? Do you really think that the framed "Chris Christie for President" poster is going to be worth money some day?
Step 5: What will I do with all that extra money?
One smart option is to use the money you make on the sale to beef up your retirement portfolio, even if said retirement is years in the future. If you've lived in your home for more than two of the past five years, you don't have to pay taxes on up to $250,000 you make from the sale ($500,000 for couples). Having after-tax money available for withdrawals in retirement can offer greater flexibility for today's retirees, who usually have to pay taxes on money they pull out of 401(k)s and IRAs.
The rest of the savings from downsizing come from lower housing bills. That should allow you to draw down your (now larger) nest egg at a lower rate, and free up some income. More income equals more stability—and, hopefully, more fun. And isn't that what this is all about, anyway?
Courtesy of Realtor.com–Beth Braverman, an award-winning journalist and content producer, covers real estate, personal finance, and careers. When she's not writing, she tries to find time between yard work and paying bills to experience the joys of being a new homeowner.