5 Surprising Ways Downsizing May Actually Cost You Big Bucks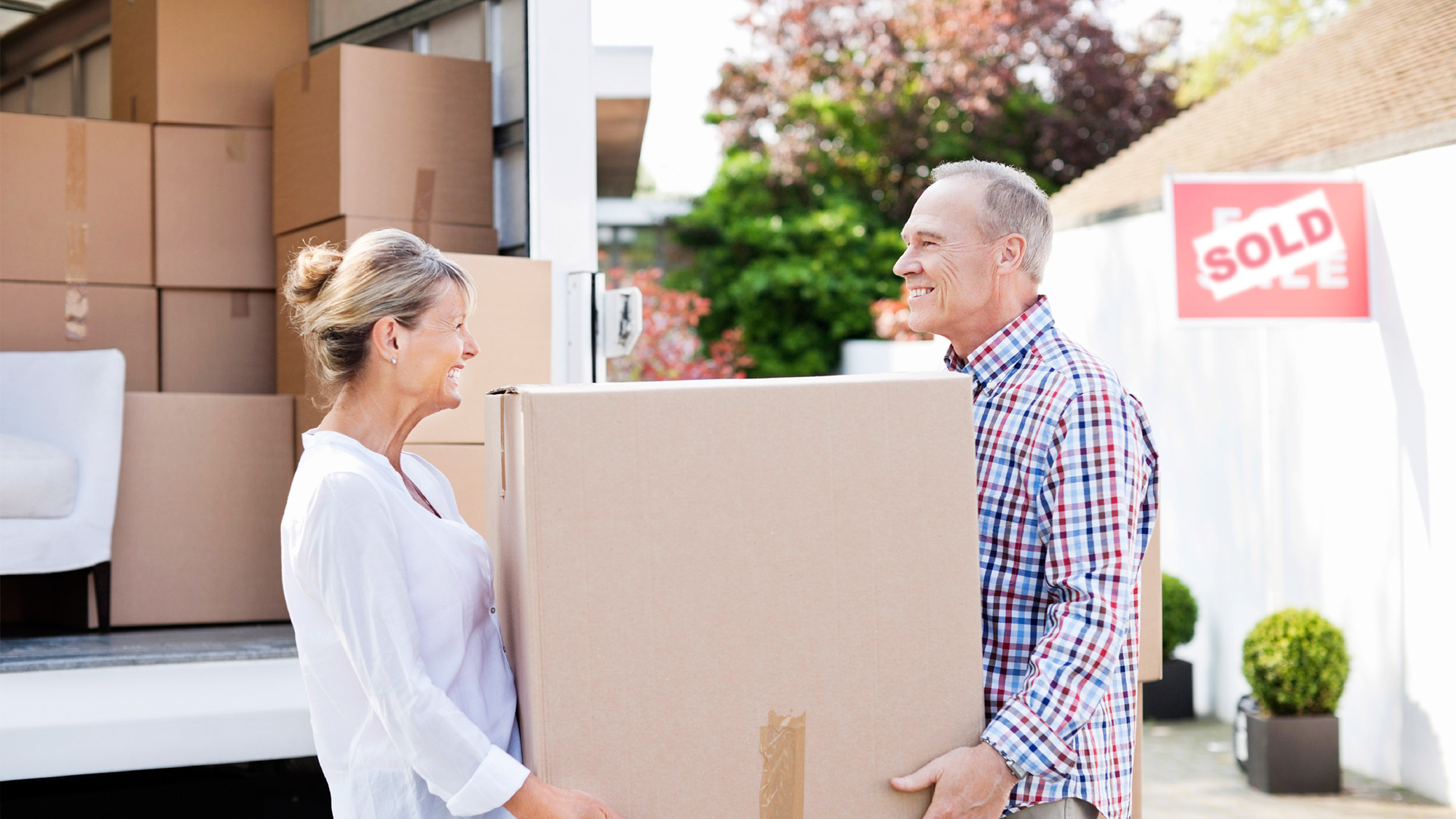 Sure, downsizing should save you money. Whatever may have spurred the urge to purge—whether it's kids flying from the coop, a desire for a smaller place to maintain, maybe even an unhealthy addiction to "Tiny House Hunters" on HGTV—moving into a smaller place can grow your nest egg right at a time when extra cash will come in handy. The payoff can be big.
According to a study by the Center for Retirement Research at Boston College, moving from a $250,000 house to one that costs $150,000 could on average increase yearly income by $3,000 and reduce annual expenses by $3,250, saving the homeowner $6,250 a year. And maybe lots more.
But here's the dirty (little) secret about downsizing: It can cost money, too. If you're not careful, some nasty expenses can creep into the picture and drain whatever savings you were hoping to accrue. To make sure this doesn't happen to you, watch out for the following curveball costs. Plan accordingly before you make the big move to smallness. Because why not do it right?
Hidden cost No. 1: Taxes
Depending on how long you've lived in your home, when you sell the place, a large portion of your equity may go straight to federal and state capital-gains taxes. Many folksdownplay or underestimate this heavy lift. You can exclude up to $500,000 of profit from the sale of your home if you're a married couple filing jointly, or $250,000 if you're single. (Your profit is the sale price minus its selling expenses and "tax basis"—that is, what you paid when you originally purchased it, plus the cost of any improvements you've made to the property.)
The IRS offers some guidelines on how to calculate capital gains, but you'll still want to consult a tax adviser to find out how much you're going to walk away with when you sell your home, says Rae Wayne, a Realtor® with the Bizzy Blondes team in Los Angeles.
Additionally, if you're buying your next property, you might have to pay more in property taxes depending on where you're moving. But if this is a retirement move you're making, you may be in luck: Some cities offer property tax relief to seniors, so find out from your adviser if a discount is available and whether you qualify.
Hidden cost No. 2: Repairs
Depending on how long you've lived in your home, you might have plenty of deferred maintenance to deal with. So to get the most value for your house, you'll need to make repairs before putting your property on the market. You may also have some cosmetic issues that need attention. Maybe lots of 'em.
"A lot of homeowners just let landscaping slip," says Nancy Newquist-Nolan, a Realtor with Pacific Coast Realty in Santa Barbara, CA, who specializes in downsizing. "Older homeowners in particular just don't have the energy."
Is that you? When Jeb Bush was labeled "low energy" during the Republican primaries, did you nod sadly in recognition? Then it's worth hiring a professional to do basic landscaping, including removing weeds, planting flowers, and pruning hedges and trees. Improving your home's landscape can raise its value by up to 12%, according to research from Virginia Tech.
Moreover, painting the front door, replacing the mailbox, and updating light fixtures are low-cost upgrades that can boost curb appeal substantially.
Hidden cost No. 3: Moving
Unless you can get friends or family to help you (and at this point in your life, do you really want to?), you'll probably hire a moving company when you downsize. Just keep this in mind: The average professional move costs a not-at-all-small $12,230, according to Worldwide ERC, an association that tracks mobility costs.
But there are a number of ways you can save.
Timing is crucial. Summer is peak moving season, since most families want to move when their children are out of school. And trust us, surge pricing isn't unique to Uber. So avoid the priciest periods if possible: You'll save if you can relocate during the winter. Moreover, a midmonth move will help cut costs, since movers are busiest during the beginning and end of the month when leases turn over, says Scott Michael, president and CEO at American Moving & Storage Association.
Another way to cut costs is simply to comparison shop: Get in-home quotes from at least three companies, Michael advises. Transporting valuables like antiques? Make sure you're covered if something breaks. Since legal coverage varies by state, look into purchasing "full replacement value" protection from the moving company, says Michael. Also, some homeowners insurance policies cover items when in transit, so check your coverage.
If you're making a local move, you'll likely pay by the hour, so make the process as seamless as possible, says Regina Leeds, a professional organizer and author of "Rightsize … Right Now!: The 8-Week Plan to Organize, Declutter, and Make Any Move Stress-Free."
To conserve time, pack smaller items yourself, label boxes and furniture to indicate their designated room, and supply workers with handwritten instructions the day of the move.
"The less questions movers have to ask you, the faster they'll go," and the more you'll save, says Leeds.
Since long-distance moves are typically priced based on weight, you can shave costs by unloading your "clutter" before moving.
Hidden cost No. 4: Storage
Having trouble parting with some of your possessions? You may be tempted to put them into a storage unit, but Newquist-Nolan says it's a waste of money.
"When you downsize, you should be able to reduce your possessions to fit your new living space," she says.
Leeds recommends going room to room and making a list of everything you're going to get rid of, including furniture, clothing, and canned foods.
"You want to have space in your next home for new mementos," says Leeds.
Be brutal—you'll be happy you were. You have three options when paring down your belongings, according to Newquist-Nolan: Give them to family, sell them (either on eBay or in a yard sale), or make a donation and receive a tax write-off. Some organizations (e.g., the Salvation Army) will pick up donations from your house, making it a hassle-free decision. If you're going to simplify, simplify.
Hidden cost No. 5: Living expenses in your new locale
This one is a big wild card. Some living expenses are fixed, like condo dues or homeowners association fees, and thus easier to budget for; in other cases, your cost of living might go up—sometimes way up—if you're making a long-distance move.
Online calculators can give you a rough estimate of what you'll be paying, but you can get a better sense of how much things cost by visiting your prospective town.
"Check out the supermarkets, restaurants, and shopping centers," says Wayne, "and talk to as many people as possible to get a feel for what it's like to live there." After all, small is the new big. Just make sure it's the right kind of small.
Daniel Bortz is a Realtor in Maryland, Virginia, and Washington, DC. Daniel is also a writer with a background in financial reporting and editing. His work has appeared in Money magazine and National Geographic Traveler and on CNNMoney.com, Entrepreneur.com, TheFiscalTimes.com, USnews.com, and HuffingtonPost.com.